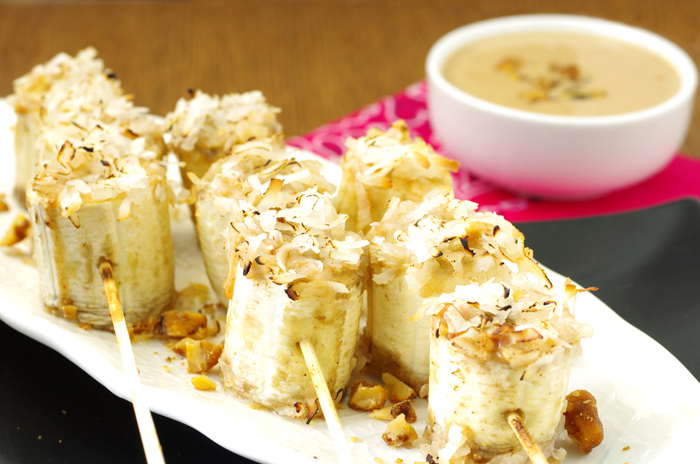 Grilled Banana Satay

Click here for a printable version of the recipe.

Beef makes good satay, so why not banana? After all, it's meaty and rich. Enrobed in sweet peanut sauce and shaggy shredded coconut, these banana medallions are delicious with grilled pound cake. They'd be even better with grill-toasted pandan cake (a light, fluffy Southeast Asian cake traditionally made from the juice of a pandan plant) and coconut whipped cream.

INGREDIENTS:

4 bamboo skewers, soaked in water for 30 minutes
4 fat, barely ripe bananas, peeled
1/4 cup peanut butter
1/2 cup coconut milk
2 tablespoons dark brown sugar
1 teaspoon ground ginger
1/4 teaspoon ground cinnamon
Pinch of salt
Pinch of cayenne pepper
2/3 cup sweetened shredded coconut

DIRECTIONS:
Light a grill for direct medium-high heat, about 400ºF.

Slice the bananas crosswise into medallions 1 to 2 inches thick. Skewer the banana pieces through the edges so that the flat sides can be grilled, threading 6 to 8 pieces on each skewer.

Whisk together the peanut butter, coconut milk, brown sugar, ginger, cinnamon, salt, and cayenne pepper in a bowl. Pour half of the peanut sauce into a wide shallow dish.

Brush the grill grate and coat with oil. Grill the banana skewers directly over the heat until nicely grill-marked, 2 to 3 minutes per side. Dip the flat sides of the bananas in the peanut sauce. Sprinkle with the coconut to coat. Return to the grill and cook until lightly browned, 1 to 2 minutes per side.

Serve with the remaining sauce for dipping.